The Edsel was a brand of the Ford Motor Company but from 1957 to November 1959 only 118,287 cars were built, 2/3 of them at Louisville Assembly Plant and 7,440 in Ontario, Canada.

Of course the Edsel was different than others and it was designed to be this way. 18 different body styles were available among them a full line of station wagons. You could get the cars in 90 colour combinations, such as Alaskan Gold, Sunset Coral or Sahara Beige. The oval grill was a lot talked about as it in a way looked like a horse collar, a toilet seat or even a woman's genitals.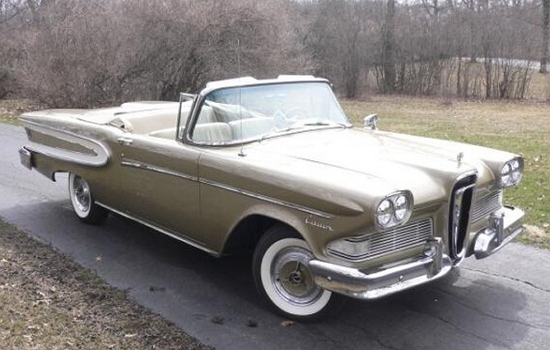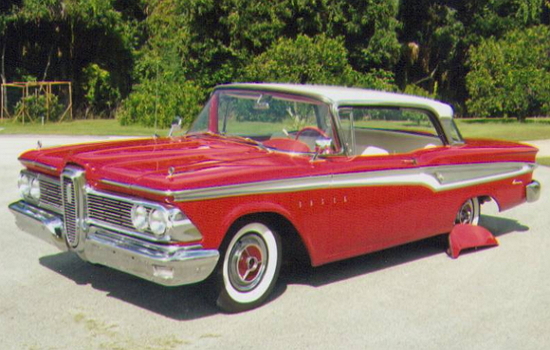 Some drivers had problems with the push button transmission system which was located on the steering wheel were normally the horn was. Many drivers shifted gear instead of honking the horn. And it was prone to shift unexpectedly from "park" into "drive", so it was wise not to walk in front of an Edsel.

But even though the car looked different and was different, it only was a car with four wheels and four doors. And this seemed to have been part of the problem. Even though it was a great car to drive it only was a kind of ordinary car that just looked a little different. It might have sold better if it had been able to fly or anything like that.

Even with a grill looking like a toilet seat. I still think it is a great car in a way and the many different colours really are marvellous.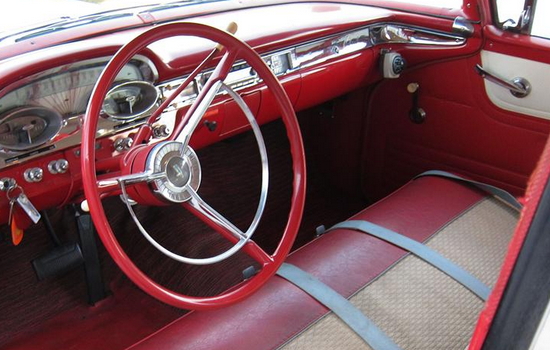 Anyway the Edsel was a marketing failure and the Ford Motor Company spent $ 350 million to design, launch and prototype the car. Fewer than 6,000 Edsels seem to have survived but now are a highly collectible item amongst lovers of vintage cars.