Despite of extremely wide choice of tires on the North American market, Lionheart tires have quickly earned good reputation there. This brand is relatively young and is being marketed in the States and Canada for around five years. Yet, Lionheart tires review statistics shows, that customers are loyal to the brand due to good quality at fair price.
Lionhart Tires facility is headquartered in China, hence the manufacturing expenses are lower. The key feature of these tires is special emphasis to grip and the way they adhere to the road surface. These tires are often used on regular city cars, as well as SUVs, minivans and light-duty trucks.
Lionhart Tires has a full range of styles and models at low tire prices. The best selling all-season tire for standard economy cars is the Lionhart LH-001. This tire provides long mileage and traction on wet and dry roads. The Lionhart LH-001 tire has limited snow and ice capabilities as well, so an okay tire to leave on year round even if you live in a winter weather climate. The Lionhart LH-002 tire is the best selling all-season performance tire in a wide range of H-rated tires, V-rated tires and even Z-rated sizes.
Lionhart tires review and rating
| | | |
| --- | --- | --- |
| Traction under dry conditions | Excellent | ★ ★ ★ ★ ★ |
| Braking under dry conditions | Excellent | ★ ★ ★ ★ ★ |
| Traction under wet conditions | Excellent | ★ ★ ★ ★ ★ |
| Braking under wet conditions | Excellent | ★ ★ ★ ★ ★ |
| Ride comfort | Good | ★ ★ ★ ★ |
| Traction in snow | Good | ★ ★ ★ ★ |
| Noise level (internal) | Unacceptable | ★ ★ |
| Fuel consumption | Average | ★ ★ ★ |
| Tire wear | Average | ★ ★ ★ |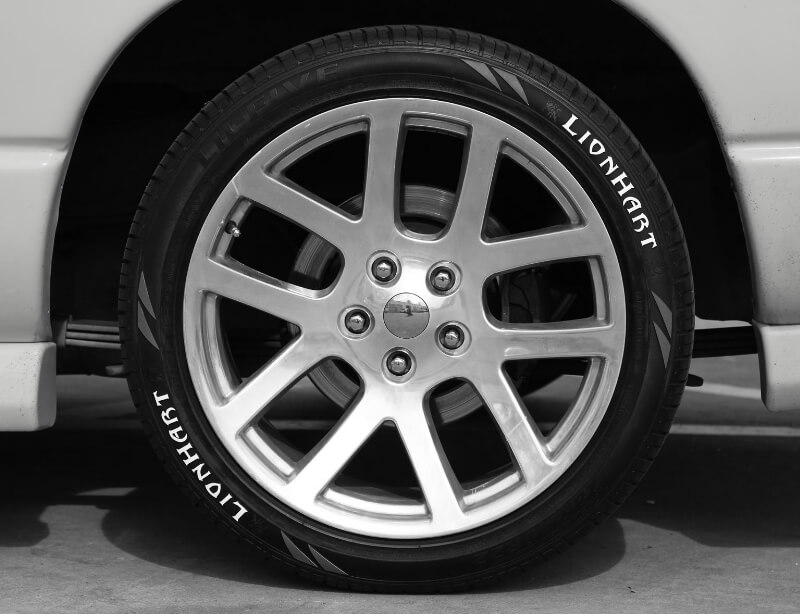 LionHart's passenger tires like the LH-Eleven, LH-003 and LH-008 use the latest in materials, manufacturing techniques and engineering to deliver truly world-class performance, ride quality and handling. Things like asymmetrical tread patterns, circumferential grooves for wet-weather traction and tread designs computer-tuned for low road noise mean that LionHart is an excellent choice for a replacement touring tire for your car.
For Light Truck owners that are serious about their off-roading and need good all-terrain capabilities with a tire that just looks cool, the Lionhart Lion Claw M/T is a great option. Big stable tread blocks, wide open grooves for mud evacuation, and awesome sidewall styling really turns heads on any Mall Crawler.
So if you are looking for a cheap tire with great aesthetics and decent quality, Lionhart tires are a good low cost tire solution.
Lionhart Tires Reviews
Lionhart LH-002
Average rating:
3 reviews
Nov 13, 2018
Location (Sity, State):
Beaufort, S.C
Vehicle:
2013 Buick Regal gs
I purchased a set of LionHart tires in May for my 2013 Buick Regal gs, and I am very unhappy with these tires. The internal noise is very loud and annoying, and my tires won't balance out because of a warp in the tires. LionHart don't offer a warranty so I'm stuck with some tires that came damaged from the factory.
Dec 30, 2017
Location (Sity, State):
Nashville, TN 37210
I have Lionhart LH-002 on the 2007 Charger. I like them and plan on buying another set. Got 50.000+ miles over three years on these so far but they need replacement. I imagine they would have lasted a bit longer if I had rotated them more frequently.
Aug 7, 2017
Location (Sity, State):
Pittsburgh, PA
I put the Lionhart tires on my Mustang, and they are ok so far. Beautiful tires for a nice price!