Whenever something is being towed with a truck, stones and road debris fly from the rear wheels and damage the vehicle paint, trailer and what is being towed. As a result you get paint chips, dents scratches on your investment. In future, these minor imperfections can lead to rust and corrosion of metal parts, and significant decrease of the resale value of your trailer, boat, camper, truck, etc.
And while a single ding or scratch does not seem to be a great deal, many minor imperfections will not make your truck or towable look brand new.
Protection of Your Truck & Towable
Modern aftermarket offers numerous means of protection against negative influence of road debris, and one of them is quality mud flap systems. By installing a hitch-mount mud flap system you will get an extra rubber gap between a truck and towable.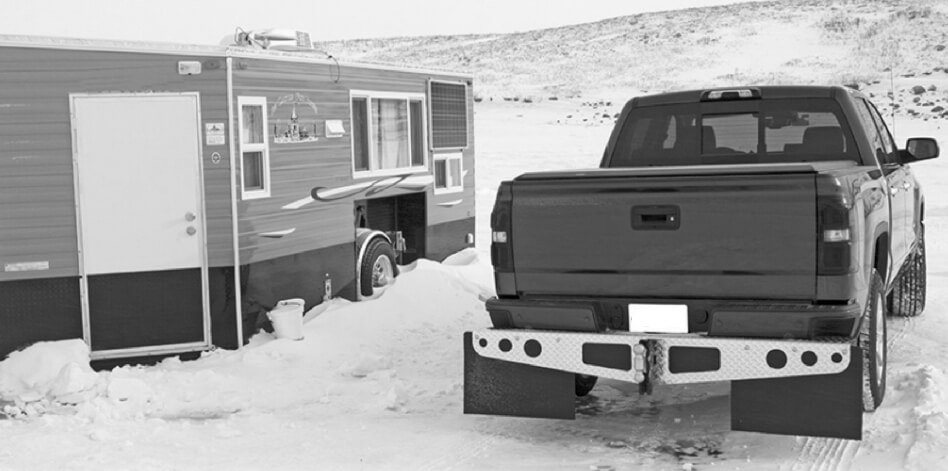 This way, stones and debris are stopped on their way and do not hit your truck or trailer, which is exactly what you want to prevent to keep your investment in top shape.
Hitch Mounted Mud Flap Systems
Numerous tests show, that factory mud flaps will not stop flying rocks, they are just catching some mud when it rains. Hitch-mounted mud flap systems, on the other hand, ensure maximum protection.
If you select an adjustable mud flap system, you will be able to set up the right width of the mud flaps, and adjust height of the mud flaps when you get certain cargo in the truck bed. Quality mud flap systems can be removed and installed again when needed.
Check out official Rock Tamers website for more information on adjustable mud flap systems: