Advanced Clutch Technology is one of the leading companies among those who manufacture performance parts. Known as ACT, it is famous for manufacturing an extensive product line which includes single disc clutches, twin disc clutches, carbon clutches and flywheels.
ACT is famous all over the world for the outstanding quality of its parts – each product that is manufactured here is unparalleled in strength, durability and of course is made of the best quality materials used from design to production – they provide the platform for a solid engineered part. We know that ACT parts combine all the features needed in a performance clutch or flywheel plus here is a variety of parts to choose from. ACT is the company that provides with the outstanding quality that lasts, materials that work and parts that perform and ensure the outstanding results.
Talking about ACT's performance, it is important to note that each part is designed for a high standard performance. Each part has been designed thoughtfully, evaluated for features and tradeoffs and there are no shortcuts taken on the road. All the parts have been tested to assure quality, safety and durability. ACT doesn't give misleading advertisements – what you will see in the description is just features of the parts and plain and simple engineering plus calculated results.
Who makes the best clutch kits?
Here you will find only the best clutch kits, discs and flywheels of outstanding quality. Moreover ACT manufactures custom built clutches for drag racing and tractor-pulling applications.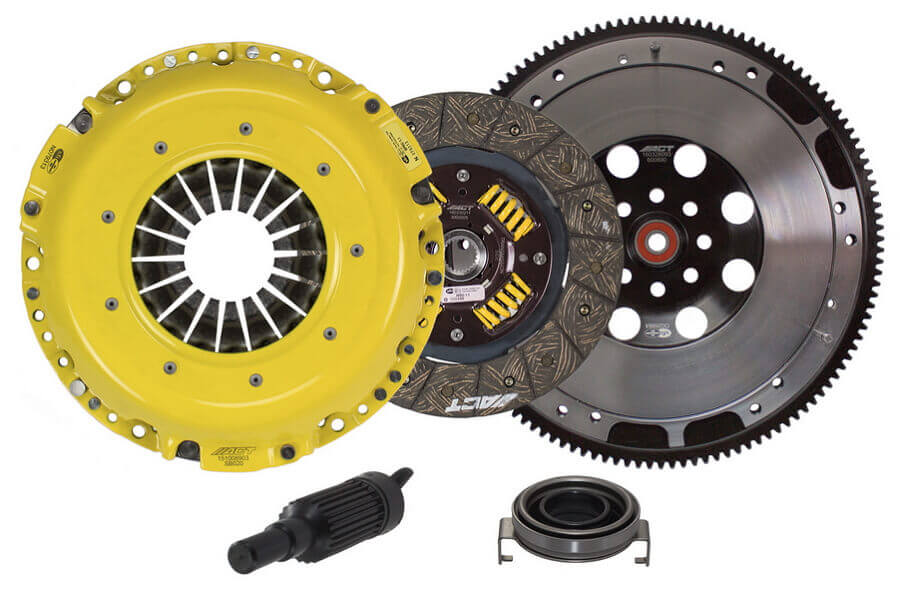 But what does it mean for you as a consumer? What an ACT aftermarket clutch kit will do for your vehicle's performance? Well, first of all, it depends on the type of clutch you are interested in. The soft clutch will make it easier to shift. If you are interested in a harder clutch, for example a triple plate one, it will greatly improve shift time, and, what is very important, it weighs less so it will significantly improve the performance.
However if you purchase just the clutch most likely you will not notice any significant difference. But if you have already installed some aftermarket performance parts on your vehicle, for instance a turbocharger on your engine or some other performance part that increases horsepower and torque then there's a point in buying such an upgrade as an aftermarket performance clutch.
Let's see how it works
The main point here is that the factory clutch is designed to be used with the car in its factory OEM configuration and having altered the engine you might have noticed that the clutch needs to be switched to an upgraded one.
ACT has the right combination of clutch components for your vehicle. Each component was designed specifically for the vehicle, it is a custom fit part. Moreover, each unit of the part that you are looking for to purchase was tested by APC specialists to assure outstanding quality, perfect performance and of course safety.
ACT offers a variety of clutch components to choose from. Everything depends of what you need for your vehicle.
ACT performance Race Discs
You can choose one of many kinds of discs knowing the main features, benefits and specifications of each type.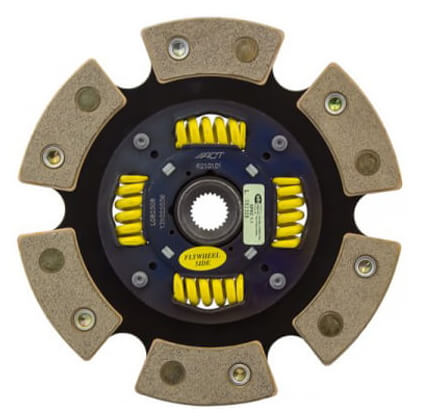 Spring Centered  discs are the most popular today. Due to improved torsional dampeners the key feature is the reduced driveline shock and spline wear. Also they operate quieter due to reduced torsional vibrations and spring-centered construction. The center section will resist failure even under harsh conditions. The drive plate is made of heat-treated steel. The Spring-Centered discs can be of two types and you can choose the one that will be the best for you: the six-pad option is for better heat capacity and better engagement; the four pad options is for the quickest shifting.
Rigid Hub Solid Disc has such main features: increased gear noise and increased spine wear, the hub components are very strong so this type of disc is extremely durable. The chrome-moly hub is made of a heat-treated metal for strength and durability. Plus some parts of the disc are covered with high quality ceramic friction material which produces 28% more friction and torque capacity than the regular organic materials that are usually used for these purposes. This disc weights less, it has rigid design for quicker shifts and trouble-free service. The Rigid Hub Solid Discs can be of two types and you can choose the one that will be the best for you: the six-pad option is for better heat capacity and better engagement; the four pad options is for the quickest shifting.
Full-Face Sintered Iron Discs offer the highest torque capacity and very high heat capacity. These discs are designed for the cars that use clutchless shifting or drag race transmissions.
But all these ACT  discs have a lot of common features that distinguish them from the other aftermarket performance discs. One of the main points is that ACT upgrades its parts with thicker retainer stampings for ultra-strength and reliability. The premium quality ceramic materials that are used provide high-heat tolerance, low wear rates and of course relatively high coefficient of friction. The Heavy Duty torsional dampening springs that are used in Spring Centered Discs engineering in most cases are stronger than standard springs. Also in each application the best sizes and spring rates are provided. The drive plates of the ACT discs is made of heat-treated high-carbon spring steel and black zinc plating to resist cracking, rusting or bending even under severe racing conditions.
And the most important point – all the ACT race discs are certified as the aftermarket performance parts meeting SFI Specification 1.1 and are legal in all racing organizations that require this sort of specification.
More about performance parts