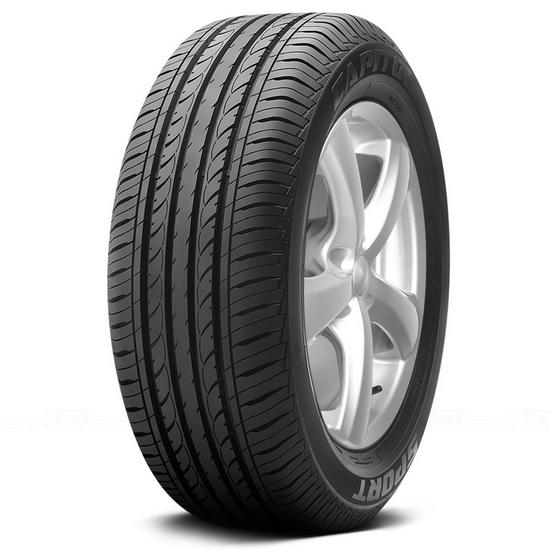 Traction • 9/10
Wet Traction • 8/10
Cornering Stability • 4/10
Steering Response • 7/10
Hydroplaning Resistance • 8/10
Comfort • 9/10
Sometimes driving conditions may surprise even in summer. But if your vehicle has A- tires there's no need to worry since nothing will surprise you. A-ONE summer tires will provide you with the best performance under all kinds of conditions.
Passenger car summer tires A-One belong to a class of high-speed tires that suit perfectly for high-performance sports cars.
The tread pattern of A-One was designed by means of the newest computer technologies. The A-One summer tires have a symmetric non-directional tread pattern, which is responsible for providing a clear and lightning fast response of the vehicle to the driver's command. These characteristics have mainly been implemented due to the tread structure. In order to reduce the resistance of the vehicle wheels to dynamic deformations during high-speed movement, there were applied three hard central ribs.
Some of the large blocks that formed the shoulder tread ribs serve to help facilitate the process of high-speed sharp turns passaging and reduce the stopping distance of the vehicle even on wet road surfaces.
A-one summer tires provide the best protection against hydroplaning, which is especially needed when it's raining. Five extended drainage channels are responsible for promptly removing the excess of water and moisture from the contact patch, while creating a protection against the possibility of losing traction with the wet road surface.
Low noise is also one of the advantages of A-One tires. Original location of structural elements of tires tread are meant to help significantly reduce noise generation and vibration emanating from the wheels of a moving vehicle, which has a positive effect on the driving comfort.
A-One tires features
Three rigid central longitudinal rib stabilizes the straight driving stability and excellent handling of a vehicle;
Wide shoulder tread ribs prevent the possibility of skidding car during cornering;
Rectangular blocks of the tread shoulder pattern reduces the braking distance of the vehicle;
Wide circumferential grooves design enables excellent resistance to the water and increases resistance to lateral sliding at high speed;
Two central unit ring groups provide good stability on the road and greatly reduce noise effect;
Computer optimized design reduces resistance to acceleration, allows to save fuel, and provides safety and comfort.
Capitol A-ONE Summer Tires Rewiews
Capitol A-ONE Summer Tires
Average rating:
2 reviews
Mar 3, 2016
Location (Sity, State): Fresno, CA 93721



I think that A-One summer tires are the best option for medium and business class cars. It is great for usage in a big city, as well as somewhere at the countryside with awful roads. I got more than 50000 miles with these tires and I never had any complaints or disappointments. I'm a very demanding driver, comfort is always on the top of importance for me, so I'm really surprised that I finally found tires that meet all.
Feb 13, 2016
Location (Sity, State): Cambridge, MA 02138



I had positive experience using A-One. Although choosing tires is not really my biggest strength, I was recommended to try these and I am totally satisfied. The price is absolutely affordable while the quality is just awesome at the same time. I love how easy it is to drive with these great tires, the handling is perfect even under awful weather circumstances. I had lots of trips in different places with all kinds of roads surfaces and everywhere I went it was a pleasure driving with A-One.