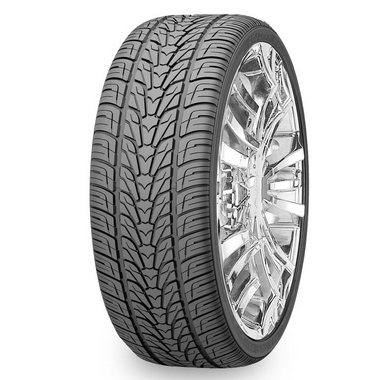 Traction • 9/10
Wet Traction • 7/10
Cornering Stability • 7/10
Steering Response • 8/10
Hydroplaning Resistance • 6/10
Comfort • 9/10
Today high performance is not for sporty cars only! The new Capitol RoadianHP high-speed tires were created to enhance comfort and stability, improve handling for drivers in wet and off-road environments. The characteristics of Capitol RoadianHP tires, including the components and new design of the directional groove provide the performance of exclusively high quality that the most demanding drivers always look for. The new series of high-speed tires are characterized by exceptional handling when driving on dry and wet roads due to the directional tread pattern that was designed specially for off-road tuning. The use of fine black carbon and silica in the tread rubber allows to balance high grip tire and its durability, thus increases the product life of the tire. The alternating pattern of the tread allows driving with better comfort. The variation of random pitch consisting of five optimized and improved modular elements helps significantly reduce the amount of noise during exploitation.
V-shaped sharply dissected tread pattern provides excellent traction tire to different kinds of road surface under any weather conditions. Two wide circumferential grooves help improve handling significantly and reduce the risk of aquaplaning on wet road environments. Massive shoulder elements provide the precision and directional stability at high-speed driving. The double shielding layer across the whole width in the zone of tread increases the stiffness, while providing stability of reliable steering and strength at high operating speeds on the most difficult roads.
Arrow type center rib for better, improved and more comfortable handling.
Large shoulder block maximizes grip and increases stability through corners.
Wide and deep directional grooves on the Capitol RoadianHP resist hydroplaning, while providing the best drainage and enhancing braking.
V-shaped directional tread pattern is designed for helping tire perform on all kinds of road surfaces.
Five random pitch variation provides the improved sectional design for reducing the pattern noise and for giving you a comfortable and quite ride.
Silica-based tread compound serve to improve and strengthen traction in any weather conditions.
Optimized and improved system of belt contour makes the driving as safe as possible.
Capitol Roadian HP Tires Rewiews
Capitol Roadian HP High Speed
Average rating:
2 reviews
Mar 18, 2016
Location (Sity, State): Broken Bow, OK 74828



Both the price and the quality of the tires are just amasing, which happens so rare. I was looking for so long for something that could give me absolute comfort and safety while driving and finally, I made my choice. And it appeared to be the right one. I have put more than 10,000 miles on these tires and and they made my each trip just perfect. Now I believe that it is quite possible to find great tires satisfying all your demands and not to pay huge amunts of money, since Capitol RoadianHP are a great illustration of this.
Feb 17, 2016
Location (Sity, State): Sylvania, OH 43560



After long time of looking for high-speed tires that could match my demands I decided to choose the Capitol RoadianHP tires and purchased them for my Mitsubishi Outlander. After more than a year and a half of exploitation on all kinds of roads I was pleasantly surprised by the quality of my new tires. Once you start using them, you can already feel the positive change. They can handle any weather, any road surface and make the driving feel so comfortable and quiet. I am totally satisfied with my purchase.