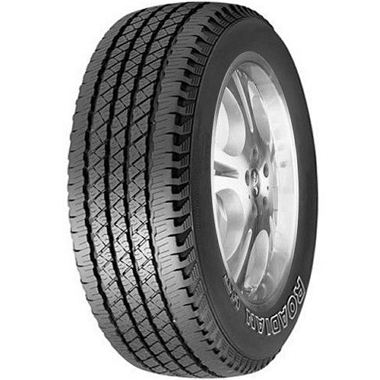 Traction • 8/10
Wet Traction • 8/10
Cornering Stability • 5/10
Steering Response • 7/10
Hydroplaning Resistance • 8/10
Comfort • 9/10
Capitol Roadian HT tires are totally ready to take on the highway! Radial all-season tires Capitol Roadian HT are designed specially for drivers of light off-road vehicles with high resource strength, reliability and capacity. The tires can be exploited under all kinds of weather conditions and on difficult roads. The stylish urban design of the tire tread was developed using the latest computer technologies. It combines four wide longitudinal grooves, well-balanced sipes in the tread pattern drafts, makes a better distribution of ground pressure, high controllability and the transfer of power on roads with different coatings. The improved high-tech design of the tread pattern guarantees excellent performance and makes the life of the product much more longer.
The circumferential grooves with organic design serve to increase resistance to hydroplaning, removing water from the contact patch. Tread rubber of special composition significantly improves traction on wet road surface. Reinforced construction board, which adds stiffness of the sidewall enhances steering precision, directional stability and comfortable driving.
The optimized and improved structure of wave-shaped sipes in the tread pattern checkers is designed in order to provide better traction and braking properties on a road surface of any kind. Variable and original pitch of the picture elements, which is characterized by numerous kerfs and slots, helps reduce tire noise generation, which is an integral part of comfortable driving and provides perfect traction even if you are driving off-road across the country, when it's raining or snowing.
A number of excellent characteristics of Capitol Roadian HT radial all-season tires makes them perfectly match the demands of different drivers, even those who have the highest requirements. With these tires, you will get a quiet and safe trip with the best comfort ever.
Features of the Capitol Roadian HT
Four wide, straight grooves serve for drainage promoting and protect your vehicle from hydroplaning.
Rigid shoulder blocks are designed to strengthen handling and maximize the stability of cornering.
5 random pitch variation provides excellent comfort driving without noise.
Speed Rating: H
Load Index: 100
Speed Rating Translation: 130 mph
Load Index Translation: 1764 lbs.
Capitol Roadian HT Tires Rewiews
Capitol Roadian HT
Average rating:
2 reviews
Apr 28, 2016
Location (Sity, State): Los Angeles, CA
I got nearly 35000 miles of different roads with these amazing tires and never got disappointed. They handle great when it's raining and snowing and make the ride better everywhere. The price is quite available, especially considering the high quality. The tire matches all the standards and can be successfully used in all kinds of weather conditions and always takes whatever direction it has to take. I had many trips, lots of them were in winter with much snow but I was driving with comfort every time. Great purchase.
Feb 22, 2016
Location (Sity, State): West Palm Beach, FL 33410



I was in a hurry when choosing tires for my pickup. I took a look at the Capitol RoadianHT tires and considered them to be good enough for my vehicle, although I was not sure yet. When I started exploiting them, I found out that they handled just great and there was no noise. It rained thousand miles through lots of roads, including country roads with bad surface and proved to be of an excellent quality highway and safety roads tires. A great combination of price and quality for such a demanding driver like me.