Do you know just paying attention to your vehicle's tires can help you conserve fuel and save cost? This article will highlight the features on your tires that affect the fuel economy of your vehicle and tips to help you improve your fuel economy.
Probably, the question in your mind right now will be, how can your vehicle tire help you save fuel? The simple answer is rolling resistance.
WHAT IS ROLLING RESISTANCE?
All vehicles require a particular amount of energy to power the tires in order to move over surfaces at a constant speed; that energy required is called rolling resistance.

WHAT FEATURES ON YOUR VEHICLE'S TIRES AFFECT YOUR FUEL ECONOMY?
✔ TIRE SIZE
Tire size is a pre-purchase feature that affects the rolling resistance. People are often advised to buy tires with narrow width and diameter because it has lower rolling resistance. The reason is that smaller tires require less resistance and energy to keep them rolling.
While wider tires are compared with narrower ones under the same conditions, the examiner found that narrower tires have less rolling resistance and save more fuel.
✔ TIRE WEIGHT
The weight of a tire is another pre-purchase feature worth considering before you buy a tire. The lighter the weight of a tire, the less the rolling resistance. Hence, less fuel is combusted to power the engine.
Paying attention to the type of material used and how tires are constructed becomes an integral part when buying them. It would be best to consider companies that use innovative materials or lighter tire materials to construct their tires.
✔ TIRE TREAD
Tire tread is the major contributor to rolling resistance, as it constitutes about 60% of the entire resistance. Tread is designed to improve friction between the tire and the road when it is wet or snowy to avoid the vehicle from skidding off. But, when the road is dry, the friction increases the rolling resistance and leads to excessive fuel consumption.
If you can get a great tire design that can serve for both dry and wet surfaces with high efficiency, then that will be great. It is also worth noting that excessive tread reduces the speed of cars.
✔ AIR PRESSURE
After tire tread, the next most influencing feature of a tire is the air pressure. It constitutes about 20% of the rolling resistance of a tire, so it has a great impact on fuel consumption. As the tire pressure drops, the rolling resistance increases simultaneously, increasing the vehicle's fuel consumption.
Air pressure falls under the maintenance features, and you have to constantly check to ensure the air pressure is the same as the manufacturer's guidelines. The checks are to be carried out at least once a month.
✔TIRE & WHEEL TYPE
The type of wheel you use can affect the car's overall weight, and since this weight acts on the tires, it can increase the rolling resistance. Meaning the engine will require more energy to move the vehicle, which implies more fuel needed. You can opt for a light-alloy wheel, which might affect the type of tires you can buy.
HOW TO IMPROVE YOUR FUEL ECONOMY AND SAVE MONEY
Decreasing your tire rolling resistance, as highlighted above, helps improve your fuel economy. But there are other maintenance factors that can help you reduce fuel cost and save money.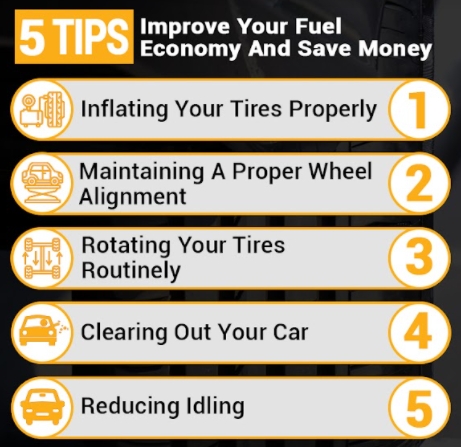 ★ INFLATING YOUR TIRES PROPERLY
Paying attention to your tire pressure can help you a great deal, as earlier stated. It can help decrease your gas mileage by 3%. And it would help if you did it at least once a month. You can find the accurate vehicle pressure in the owner's manual.
★ MAINTAINING A PROPER WHEEL ALIGNMENT
Wheel alignment is a maintenance protocol often skipped by most car owners; it is important for safe driving and also impacts fuel economy. For the cost, your vehicle will consume more fuel because of the drag in misaligned cars. Misalignment of cars can lead to poor traction and tire wear.
For safety, it can damage the tire and increase the chances of an accident on the road, and it can also affect the performance of your car. Ensure that you take your vehicle for regular wheel alignment maintenance, especially when you buy new tires.
★ ROTATING YOUR TIRES ROUTINELY
Tire rotation moves the tires and wheels of a vehicle from one position to another for even wear of the tire tread. The uneven wear in tire treads can increase rolling resistance, which spikes the amount of fuel consumed per mile. According to the manufacturer manual, a routine rotation of your car tire can help reduce your gas mileage.
★ CLEARING OUT YOUR CAR
The general weight of your car has an impact on your fuel efficiency. If your car is weighty, the tire rolling resistance will increase, leading to more fuel consumption.
Remove redundant stuff like extra books, forgotten backpacks, and sports equipment from your vehicle, both inside and outside.
★ REDUCING IDLING
Idling is keeping your engine running while your car is not moving. You have to use the stop and start system to help save your fuel.
Newer versions of cars come with automatic stop and start. The car stops when it comes to rest and starts when the brake is released. But, if yours does not have that mechanism, you should ensure that you shut off the engine when you stop.
CONCLUSION
You have seen that your tire has a great influence on your fuel efficiency. Before now, you might have been wondering why your fuel does not last long. Now, you know the features that can increase your car's rolling resistance and how you can improve your fuel economy. Paying attention to your vehicle tire will do you a lot of good in terms of safety and cost management. But, as wise men will always say, it is better to prevent harm or losses than to manage them.