We see cars with decals in the web, in video games like Need for Speed and in movies. When you look at rally or race cars, you will see a lot of stickers with aftermarket equipment logos on their fenders and doors. So no wonder one day you put a cool sticker on your vehicle, and proudly look at this tiny custom accent on the body of your vehicle. Then you usually enjoy your decal for some time. Yet, the time passes and decals fade, peel and stop looking nice.
Then it's time to remove it and make sure not to damage the paint. The only question is how to do that. If this story sounds familiar to you, and you want to get rid of a decal without damaging car paint, keep reading!
Sticker removal: things to consider
When you decide to remove a decal, the first thing you want to keep in mind is not to hurry. When you are in a hurry and want a quick solution, chances are high that you will damage the clear coating, and perhaps even remove your decal with your paint. It means that due to your rush you will need to re-paint a body part. Alternatively, unprotected metal may start rusting, which is even worse. So, here is a quick instruction on how to remove car decals without damaging paint.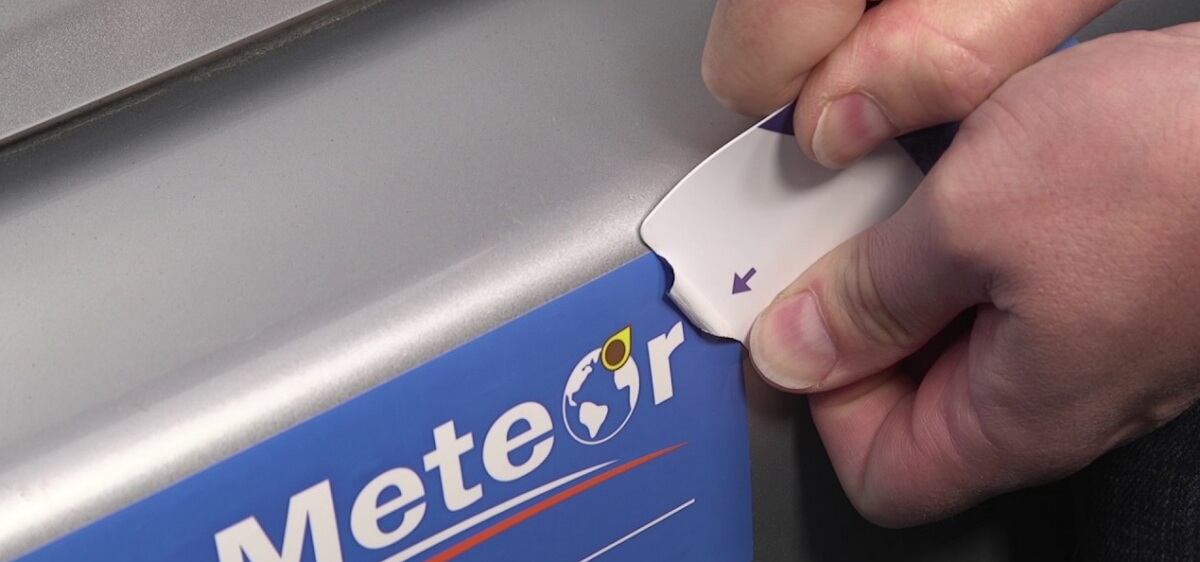 Car sticker removal: DIY instruction
Make the adhesive soft by using a heat gun or hair dryer. Just make the sticker glue warm, do not overheat it. If you are using a heat gun, do not hold it too close to paint.
Take a credit card or something similar and lift an edge of the decal. Starting from the edge, slowly move the card from side to side. Do not go too deep and do not try to lift the decal up. If you believe, that the credit card is too thick and you need something sharper, like a razor, forget this idea, unless you want extra damages and lines on the paint.
Chances are high that the decal will cool down while you work on its removal, so you may need to heat it again.
And here is an extra 'pro' tip. l. Pull the decal back over itself, not just straight up. This will ensure that the paint will not get lifted as well.
Car sticker removal
How to remove car decals
So, that's pretty much all you need to know about safe decal removal. However, when you finally get rid of the sticker, you are likely to see that annoying residue. It holds on the surface, it is sticky and ugly. If you do not remove it right away, it will collect dirt, dust and particles, which you definitely do not want to tolerate. Keep reading if that is something you want to fix.
How to remove sticker residue?
The truth is, there are so many ways to remove sticker residue from metal. Everything pretty much depends on whether you want to do it free of charge or are ready to pay a couple of dollars to save effort. If you are not ready to invest into this process, here are easy methods that are proven to work.
Rub alcohol to remove the residue. You will need a clean and soft cloth and some alcohol which you probably have at home. Just make sure the surface is clean before you start rubbing, as you do not want to scratch paint because of dust and sand particles.
Take some packing tape or ductape and attach the tape with the sticky side to the residue. You will need to do that several times to make sure residue attaches to the tape.
Another inexpensive way to remove sticker residue is to use a pencil eraser and elbow grease. Just apply some grease on the edge of the sticker residue and start rubbing. As long as the sticky residue starts disappearing, move forward.
If you are ready to spend around $7 to avoid hassle, pick a bottle of GooGone residue removal. It is the easiest way to get rid of the residue, and the package is big enough to help you clean surfaces after dozens of stickers.