Custom wheels always attract attention, and many car owners consider adding a set of custom wheels as one of the first mods for their vehicles. When upgrading to custom wheels, there are some things one should keep in mind before picking a set for their car or truck.
Aftermarket wheels: plus-sizing
When you want to switch your factory wheels to larger diameter wheels and pick tires with lower sidewall and as a result gain approximately the same outer diameter, means you do plus-sizing. For the wheels to perform right, there are certain things you need to know. The main rule is to have the same outer tire diameter as your vehicle had from stock. For the aspect ratio of 55, which means that the sidewall height equals to 55% of the overall tire width, the tire diameter has to be equally reduced in order for the wheel to have the same outer diameter. So whenever the tire diameter increases, the aspect ratio decreases when talking about it in terms of plus-sizing.


Custom wheels: Centerbore explanation
Manufacturers of custom wheels make wheels that will fit more than one vehicle application. That's why they make certain size of centerbore the way to be semi-universal for a certain category of vehicles. Centerbore is a hole that is machined in the center of the wheel. For the vehicle-specific custom wheels, the center bore is made of the size to fit over the wheel hub flange. This flange, in its turn, centers the wheel on the wheel hub to minimize vibration. However, the majority of custom wheels employ centering ring that fits into the centerbore to fit the specific vehicle application and center the wheel in accordance with the individual vehicle specs.


Many custom wheels are made by employing forging technology. This way, alloy becomes stronger and more lightweight. Aftermarket wheels are well-known not only for their large diameter, but also for sophisticated custom shapes and custom colors. The manufacturers of such wheels offer forged alloy wheels of monoblock (1-piece), 2-piece and 3-piece construction for different vehicle applications.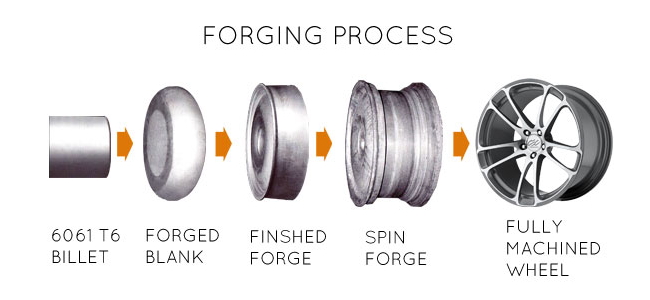 These wheels are usually made of aluminum alloy. Wheels made of aerospace quality 60/61-T6 aluminum alloy that is both durable and lightweight are quite expensive, yet durable, which makes them popular among car enthusiasts. 1-piece forged wheels are made from 1 aluminum alloy barrel by means of billet of alloy that is heated and forged, 2- and 3-piece wheels are accordingly made of 2 or 3 alloy billets. One-, two- and three-piece wheels are made by means of forging, yet the assembly technologies differ based on the wheels setup.
More about Custom Wheels