Nowadays, racing steering wheels are installed not only into race cars, but also into regular daily drivers. Racing steering wheels are not always round, sometimes their shape resembles an aircraft yoke.
Racing steering wheels feature smaller diameter and are flatter than the regular ones to ensure easier and more effective cornering. That's why when such steering wheel is installed instead of the stock one in a regular passenger vehicle, it requires an adapter to fit it.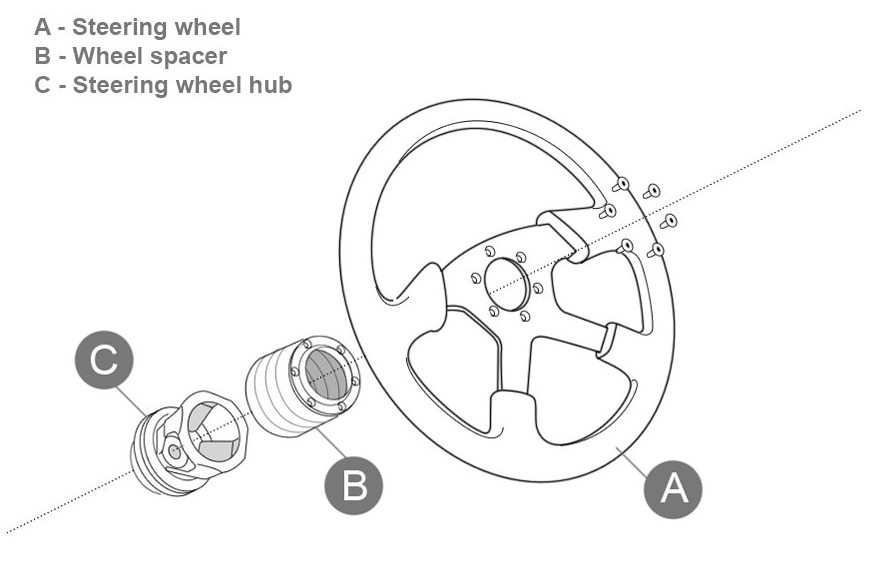 What is steering wheel adaptor?
Steering wheel adaptor is the part, that allows mounting racing steering wheels instead of the factory one. The size of the adapter varies, and its height equals to the dish height of the stock steering wheel minus the height of the aftermarket steering wheel. This means, that the height of the racing steering wheel plus adaptor has to be equal to the dish height of the OE steering wheel.

Racing Steering Wheels Specs: Bolt Pattern, Fasteners, Adapters
| BRAND | TYPICAL FASTNERS | CIRCLE (PCD) |
| --- | --- | --- |
| Grant Steering Wheel Adapter Pattern | 5/16" - 24 | 1,750" |
| | | |
| Nardi and Personal Steering Wheel Pattern | 5mmx1,5 or 10-32 | 74mm |
| | | |
| Momo, Sparco, OMP, NRG Steering Wheel Pattern | 5mmx1,5 or 10-32 | 70mm |
| | | |
| Lecarra, Moto-Lita Steering Wheel Pattern | 10-32 | 4" |
| | | |
| Grant 6 Steering Wheel Bolt Pattern | 10-32 | 2,75" |
| | | |
More about steering wheels