Breakdowns happen, and nearly everyone will find themselves stuck by the side of the road at least once in their lives. Ensuring your safety is key in this situation. Know what to expect and plan ahead for possible problems anytime you are on the road, even if just during your daily commute.
Preventing the problem in the first place is the best way to go. The Texas Department of Public Safety suggests preventative maintenance before heading out on the road. For longer journeys, map out the route ahead of time, marking rest stops where you can check the vehicle if needed. Before you leave, it's a good idea to check and top off all fluids, including brake fluid, oil and water, and to check the tire pressure. Maintain the pressure of your spare tire as well. Regular tune-ups will help keep your vehicle from breaking down unexpectedly.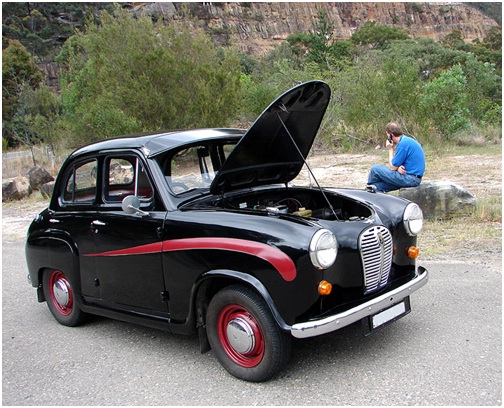 Before leaving on a trip or even a slightly longer drive, check the road conditions of the area you will be driving in. It's also a good idea, particularly for longer journeys, to ensure that someone knows when you should arrive and what your route is.
Be Prepared
This isn't just a Boy Scout motto; it's for everyone. Being prepared for a roadside emergency means having a well stocked emergency kit in the car at all times. It is very important to keep your cell phone charged too, so you can call for help in an emergency situation.
A good car kit should include several things: A flashlight, duct tape, gloves, jumper cables, bungee cords, a multi-tool or screwdriver set, and pliers. Keep in mind that every car should have a jack and lug wrench that fits your vehicle too, as well as a basic first aid kit and a blanket for emergencies. A tow rope may also be helpful.
Apart from the tools, you may want to add some granola bars or other simple snacks to your kit, in case you're waiting for help for a while. A bottle of water is always a good idea, as well as a waterproof poncho in case it is raining when your car breaks down.
When You Breakdown
The National Safety Council advises pulling your vehicle over at the first sign of trouble. You will need to slow down gently, avoiding sudden braking, and move into the breakdown lane or the shoulder of the road, using caution. Put on your hazard lights and make your vehicle as noticeable as possible with traffic cones or reflective triangles so other cars will be able to see you. At night, turning on the interior light can help turn the car into a beacon. Leaving the hood up will let everyone know that you need help, and tying a white rag to the antennae can alert help to your situation.
When possible, you should safely change a tire or make a small repair to get your car back on the road. If that's not possible, it's important to consider waiting for help. In high traffic areas, it's usually best to wait away from the vehicle, not beside or behind it where you could be in danger. For areas that are not highly trafficked, sit inside the vehicle with the doors locked. Never try to flag another vehicle down, though if someone does stop, you can lower the window a few inches and ask them to call the police if you haven't done so already.
Walking for Help
This is only advisable in an area where you feel safe and when there is no inclement weather. It's far safer to drive to your destination as opposed to walking. If you can limp along on the side of the road with your vehicle, it may be possible to reach a gas station where you will have better light at night and more space to work with. Walking, if absolutely necessary, should be done on the left side of the road, but avoid crossing busy lanes, as this would be more dangerous.
When you are properly prepared with everything you need in your emergency kit, a breakdown doesn't have to be more than a minor setback. Be sure to have a charged cell phone with you at all times to call for help and follow the above guidelines to stay safe while waiting. In cases where you can make the repairs yourself, take precautions to avoid dangers such as speeding cars or unsavory characters.