No matter where you go, strange things can be found on streets and highways. Whether it's hot-dog-shaped cars, giant cowboys, or silly signs, the world is filled with laughable road sights. Here's a few to tickle your funny bone.
Crazy Cars
Being "green" is trendy right now, but we're pretty sure this isn't what most people think of when they think of a "green vehicle!" Cars are being spotted from Germany to the United States covered in grass (some is real, and some is fake).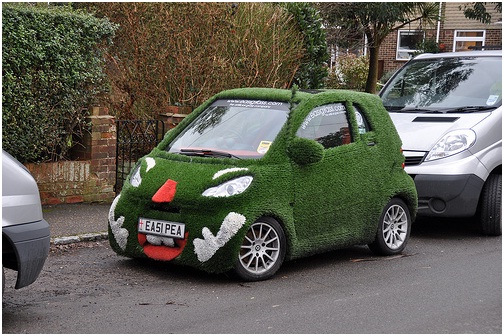 Also, cars shaped like all manner of animals are popping up worldwide. Turtles, cats, pigs, crawfish…the list goes on. And only some of them are meant to be eye-catching advertisements for businesses. The rest? We assume they're driven by animal lovers.
Roadside Attractions
When Route 66 was built, businesses constructed giant statues, balls of twine, and monstrous dinosaurs designed to catch travelers' attention. While many have crumbled with time, others still draw crowds and inspire new roadside attractions to be built.
Even the tallest of humans can't compare to the Muffler Men of mid-century America. They've been spotted across the country, but one notable example is the Gemini Giant, found in Wilmington, Ill. He's been modified to wear a space helmet and holds a rocket in his hand. At one point, he stood as advertising for the now-closed Launching Pad Cafe.
If you've always wanted to see the Eiffel Tower, look no further than Paris…Paris, Texas, that is. There's a 65-foot-high version of the French attraction, topped off with a giant cowboy hat, appropriate for a place like Texas. The local ironworkers union constructed the tower in 1993. It's one of several tributes to the European original that can be found in the United States.
Off the Beaten Path
You'll have to get off the main thoroughfare to see these sites, but they're sure to add a little excitement to a long road trip. The Beer Can House in Houston was started by John Milkovisch in 1968 and took 18 years to complete. He didn't intend to create a work of art with his hobby, but it has become a Houston attraction for visitors and fans of beer. (In case you were wondering, yes, he drank all the beer in the cans he used for his house.)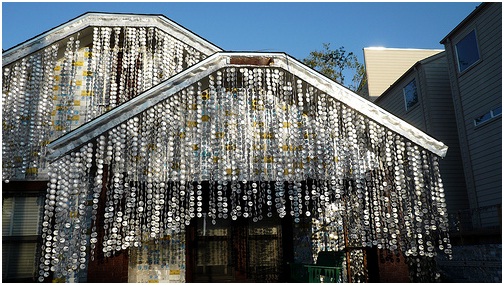 Dinosaur Park is another attraction worth the visit, especially if you've got kids. It's located in Rapid City, S.D., and it's been there for 75 years. More than simply housing giant models of dinos, the park is also a piece of American history: It was produced by the Works Progress Administration in 1936 and is now owned by Rapid City.
Road Signs
Sometimes even the road signs on the side of the street are worth a look. Often the signs are intentionally funny, while other times, it's not deliberate. In Karuizawa, Japan, there are signs warning drivers to look out for frogs during mating season. The signs were put there by volunteers who cared about the frogs' welfare.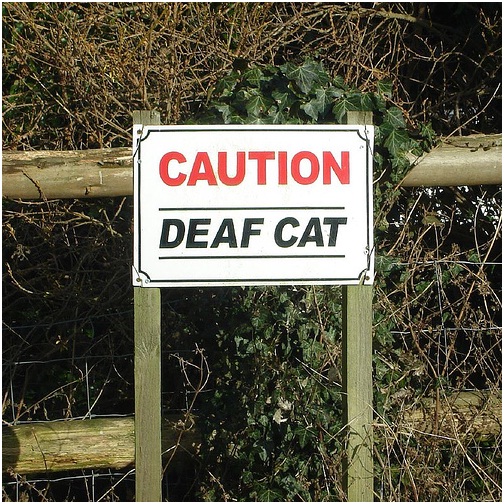 And while you've seen signs for deaf children at play, chances are you've never seen one for a deaf cat, but they're found in several places. It's nice to know that people care about their pets' safety, right?
If you spot a bizarre road sighting, snap a photo and share with your friends on your social media sites. There are also websites where you can submit your photos of weirdness for a little bit of fun. Remember, though: Stay safe while driving! Stop safely on the side of the road to take photos and have a laugh.
More about safe driving