The car repair experience is awful. No one likes the process, and we all wish our cars would simply run splendidly forever without ever needing to go to a mechanic. But what makes getting car repairs even worse is when you get the sense your mechanic isn't being completely honest with you and may even be trying to bluff you.
Most mechanics are honest and professional, but there have always been those that take advantage of people's thin knowledge of an internal combustion engine, overcharge, and make unnecessary and unwanted repairs just to turn a few extra dollars.
In fact, here are some of the well-known car-repair scams that are perpetrated:
Charging for unauthorized work
Padding the bill with fake costs
Using sub-standard or used parts without your permission
Misdiagnosis of the issue and work necessary to fix it
Mechanic Poker
Bad mechanics can get away with these things because they're pretty sure you don't know about cars and have no way of checking their work. In some ways it can feel like you're playing poker with your mechanic, but you have no idea if he's bluffing or not. He may have a straight flush, or he may have a pair of twos but you won't know unless you know how to read your mechanic's tells and can out bluff his tactics.
But how can you tell when your mechanic is bluffing? Indications that your mechanic may be lying are subtle, but trust your instincts. For example, if you ask questions about the specifics of the repairs and he doesn't answer your question—or refuses to explain the needed repairs in details that you understand—he may be trying to hide something. In fact, if your mechanic is making you feel stupid for asking questions, that may be a sign he doesn't want you to be so nosy and may be covering something up.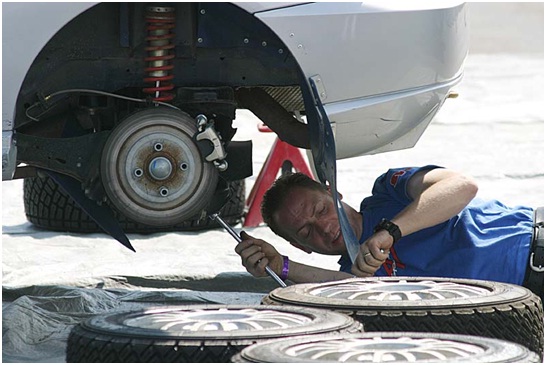 Another way to tell is if your mechanic won't show you the repairs. It's always a good idea to have your mechanic walk through the repairs with you at your car and have him show you the work he has done. If he makes an excuse, like he can't legally allow you in the shop or is resistant to show you anything because he's "too busy," he may have something to hide. Besides, walking through your repairs with you is a common courtesy that all honest mechanics should extend. (And there are no laws governing who can go onto a shop floor, so don't fall for that excuse.)
Get Your Poker Face On
Although you may trust your gut when something doesn't feel right about your mechanic, you also have to know how to read a bluffer. Get your poker face on: here are 3 ways you can come ready to play:
1. Do Your Research. Before you go to the shop, take a few minutes and do a Google search on your car's problem. Chances are, there is someone else out there who has had the same problem and you can get some great background information really quickly. If you come armed with a couple of ideas when you take your car in, your mechanic will understand you are someone not to be fooled. You don't even need to know the full details. Just gather enough knowledge to give the appearance that you are familiar with the car and issue. Remember, you're not an expert; you're bluffing.
2. Ask Questions about the Problems and Proposed Solutions. If you've done some research, this will be easier. But make sure you question the diagnosis and ask the mechanic to take you through the problem—and even show you the problem parts on your car—before he does any repairs. Asking questions means you are thorough and want to know what's going on. If the mechanic feels that it will be too much of a hassle to try and bluff you—because of all your pesky questions—he may not try at all. This is a sign that the mechanic may not be trustworthy.
3. Know Your Car. Change the oil, replace the fluids, get new wiper blades, fill the tires with air, and replace the air filter on a regular basis: not only will you get more familiar with your car, but your mechanic will understand that you take care of your car. When he sees a well-taken-care-of auto, he'll think you know a lot about cars and be less inclined to bluff you into a scam.
Not all mechanics are poker face pros, and you don't want to play that game anyway. To avoid playing games with your mechanic, look for a garage with a good reputation, clean shop floor and waiting area, and a polite staff. A well-organized shop presents that they are professional. So instead of concentrating on ways to try and out-bluff your mechanic, look for a mechanic that doesn't play games at all.
More about car repair