Most everyone has seen an abandoned car or two in their time, disposed of in an unglamorous way. Many of these cars are simply left by the roadside to rust, but there are more interesting ways to handle the disposal of one's former automobile.
Check out these creative solutions to the ultimate problem of dead cars.
Flower Garden
With limited tool know-how and a little sweat, it's easy to create a flower garden that will get the neighborhood talking. Simply place the disused vehicle in the location that you desire. Remove the trunk lid and hood. If it's a convertible, pull back the roof, exposing the interior. If you've got a hardtop, simply roll down the windows all the way. (Whether to remove the windshield and rear glass is up to you.)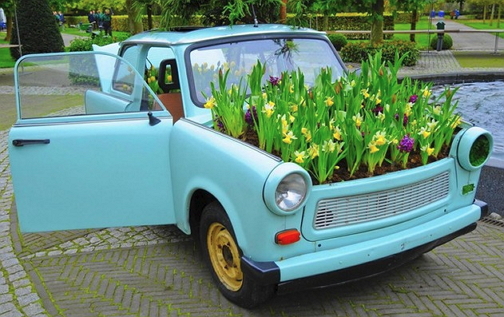 Next, fill the trunk, engine compartment, and interior with compost, soil, mulch, or any suitable growing medium. Plant seeds or even sprouts in the soil. Water occasionally until the seeds take hold and spring to life.
Hint: a hardtop roof will block most rain, so climb up there, jumping up and down until the roof 'pops' and sags downwards. Then drill several drain holes. This will ensure that water enters the main compartment. Your new garden will be the talk of town. Feel free to hand paint the auto for a custom look.
Smash Up
This is more of a temporary, one-time use situation for your defunct automobile. By donating a dead auto to the local monster truck show, a crowd can watch as the massive tires, powered by the big engine of the trucks, smash your vehicle beyond recognition.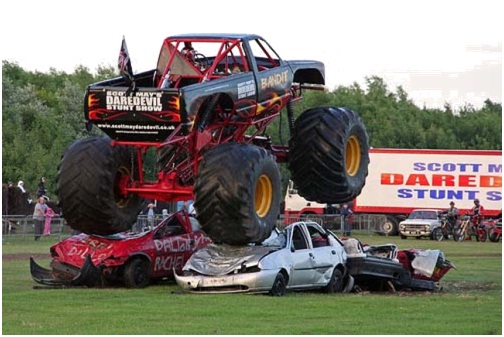 Give the crowd fodder for their destructive impulse as you create one final memory that involves your vehicle.
Storage
If you're still heating your home with split logs, you need a place to keep them dry so they'll burn readily when the chill of winter settles in. Remove the seats, steering wheel, and other extraneous automotive parts. Then stack a cord or two of wood inside your vehicle. With the doors closed, the snow and other elements won't be able to touch your heat source.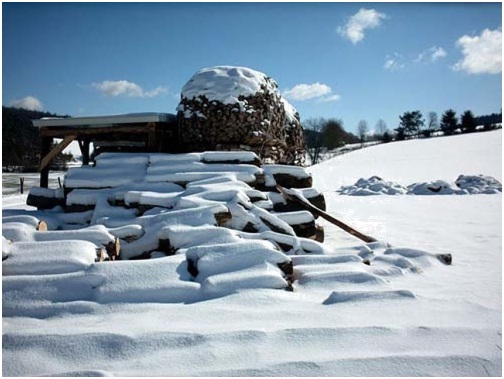 Conclusion: Sure, you can donate your car for a tax write-off, probably saving a few dollars in the process. Or, you can do nothing with your old vehicle, letting it rust to pieces. But why be boring? More interesting options exist, and it may be a good idea to consider these options, and others, before choosing to donate.
More about the old cars