Snow might look pretty on greeting cards, but driving through it is another story. According to the Federal Highway Administration, 14 percent of all weather-related car accidents involve snow. Don't wait until a flurry of the white stuff is headed your way to winterize your car.
Prepare for the Worst
One of the best things you can do to prepare your car for winter is to pack an emergency preparedness kit. Include the following:
First aid kit
One set of warm clothing (pants, shirt, hat, socks, mittens, footwear and a jacket) and one blanket for each person who usually rides in the car
Pocket knife
Necessary medication for anyone with an existing health condition
Tow chain
Jumper cables
Road flares
Brightly-colored distress flag
Matches or a lighter
Water
Non-perishable energy foods such as chocolate bars
Ice scraper
Battery-powered radio
Battery-powered flashlight
Extra batteries
Half of the items listed are probably already in your car for general emergency preparedness, so assembling the kit should be relatively quick and low-cost. If this sounds like overkill, remember that it's always better to be prepared than to say "if only" later.
Fortify Your Engine
With a few exceptions, car engines are liquid-based. In winter, this means that your car has the potential to freeze — so make sure to stock up on the following engine fluids. Store an extra jug of each inside the car.
Antifreeze Fluid
COST: $15-$30 for 1 gallon jug
TIME TO CHANGE: 30 minutes
When you ask someone how their car is prepared for winter, the first words out of their mouth will probably be something about antifreeze. This fluid is mixed 50/50 with the water in your car's radiator, preventing it from freezing solid. Antifreeze should be flushed out and replaced once per year.
Windshield Washer Fluid
COST: $3-$9 for 16 fl oz bottle
TIME TO CHANGE: 2 minutes.
Always top off your supply of windshield washer fluid. Most washer fluid comes with an anti-freezing agent already mixed in. This not only prevents the washer fluid from freezing solid in the reserve tanks, but also provides you with an instant means to defrost your windshield if it is frozen over.
Cold-weather Fuel
COST: Varies per gallon
TIME TO CHANGE: Same time you usually take to fuel up
If you drive a diesel vehicle, fill up with cold-weather fuel; regular diesel fuel goes waxy in very cold conditions, and can clog up the whole system.
Regular Fuel
COST: Varies per gallon
TIME TO CHANGE: Same time you usually take to fuel up
Even if you don't drive a diesel vehicle, you should still keep an eye on your gas gauge. Why? Because letting your gas tank go below half can damage your engine. During the winter, lower gas levels leave open space, and ice can form in the fuel lines. In short: maintain your tank half full of fuel during the cold winter months.
Install a GPS Unit
A global positioning unit is more of an assistant than a solution in a snowstorm. Though it will not improve the road conditions any, a GPS unit can help you know where to turn even when visibility is poor, which is helpful if you're taking the road very slowly. It can also tell you exactly how far away you are from your destination.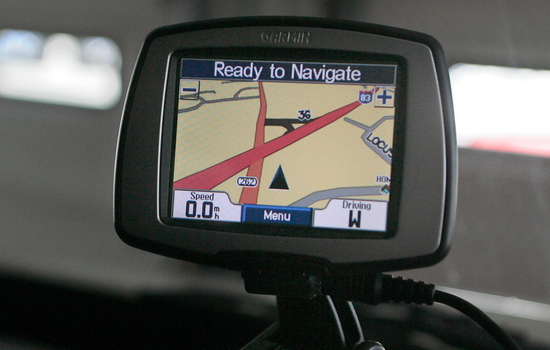 You can get a GPS unit for under $100, and many smartphones have GPS apps available.
Install Chains
Chains on the tires are a common way to deal with snow if your car does not have four-wheel drive. The cost and size of the chains will vary depending on what size your car's tires are, but for an average passenger car, tire chains costs between $25 and $35 per pair.
Replace Tires
No matter what season it is, the state of your car's tires determines whether you stay on the road or go sliding. Have tires checked before winter weather arrives, and always replace them if they're too worn out. You have two options for replacement:
All-weather Tires
All-weather tires, as the name states, are designed to be all-purpose and work for you year-round. The downside to anything all-purpose is that it is a jack of all trades, but a master of none. In the case of all-weather tires, they won't handle snowy roads as well as the next option below.
Winter Tires
If you live in a region with extreme winters, consider buying a set of specialty winter tires — basically, tires with more tread to improve grip on snowy roads. Snow is slippery, making vehicles take longer distances to slow to a stop than they would on dry pavement. According to Canada's Ministry of Transportation (www.tc.gc.ca) winter driving advice, vehicles with all-weather tires take 20 meters longer to come to a stop than the same models would while equipped with winter tires.
Practice Safe Driving Habits
Now that your car's ready for snowy roads, remember that preparation is only half of dealing with snow. The other half is your driving habits. Make an effort to drive slowly and carefully for the safest trip, especially when taking turns. Always tell someone where you're going before you head out into the snow. Finally, be sure to remember that you can dial 911 for help on any cell phone even if you don't have minutes left on your call plan.
More about Prepare Car for Snow