Every parent's worst nightmare is the day that their son or daughter takes the wheel for the first time as a licensed driver. It's only a matter of time before they start driving without supervision. A parent must rely on their kids' sense of judgment and good common sense.
Most parents know that while they may have raised a good kid with a good head on his or her shoulders, they are not above peer pressure and poor lapses in judgment. Still, there are measures that can be taken in order to help teens come back home in one piece. Here are five safe driving tips for teens.
No Texting
In this day and age of instant communication, the cell phone is as distracting as putting on make-up in the car or doing a crossword puzzle. Texting averts the driver's eyes from the road and takes their mental focus away.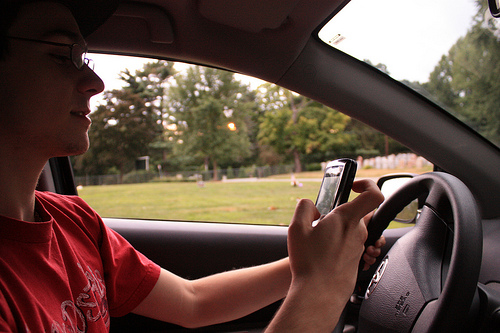 A teen is best off putting the phone in the back seat of the car. This will take the temptation away as well as prevent the flashing lights or vibrations of a cell phone to become a distraction on the road.
Stay Hands Free
Texting may be the worst offense a child under the drinking age can commit, but talking on the cell phone might not be much better. Without something like a Bluetooth, a child is often using one less hand to operate the automobile. While experienced drivers may decide to drive with one hand (this is never recommended), new teens haven't had enough experience to even entertain such a risky notion. Every teen should either keep their cell phone out of reach or get a Bluetooth headset in order to make driving a two-handed activity.
Limit Your Passengers
One of the biggest problems teens have is their inability to say no to their friends. More often than not teens will load up their cars with multiple friends, making the car ride infinitely more distracting for them. It's best to limit the number of friends they have in the car to one. One friend will keep the conversation and the stimulation to a minimum and allow teens the ability to concentrate.
Set A Curfew
When a teen has the car it's best that they come home at a very reasonable hour. The reason is that you want to avoid the risk of them feel tired or falling asleep at the wheel. This will also limit their exposure to other less safe drivers at the late hours of the night.
No Music
Certainly a teen has to listen to music in the car, but limited the use of CDs or an iPod can keep a teen safe behind the wheel. An iPod or other MP3 player offers just as much distraction as a cell phone. Many new car deals offer the option of satellite radio that is a welcome alternative to the MP3 player.
Some rules are hard to enforce and there is no way to keep your kid safe at all times. But if a child eliminates these distractions from their driving, they are likely to come home in one piece.
More about Safe Driving Tips