Cars on auto pilot are usually a scary thing when it comes to the movies. Christine rolled off the assembly line with a mind of her own, and she was very accurate in her navigation. Before the big red beauty began terrorizing car lovers, there was The Car.
Now, that thing was scary. It was a big, black Lincoln that looked like a cross between a hearse and the Presidential escort. It roared around the screen with all the random, campy terror that 1790s horror flicks were known to create.
Herbie Had a Mind of Its Own
The Love Bug was a happy kind of car with a mind of its own. For many years, the little VW Beetle kept people young and old laughing at its capers. Ah, the power of love and a car with a personality. Whether it's a scary car or a loveable car, the mental dilemma for most of us is whether we want to give over control to a machine. It's like Hal on wheels.
Nothing Supernatural About Cruise Control
It wasn't always scary. The queens of the desert could set that bus on cruise and zip across the sands of Australia in The Adventures of Priscilla Queen of the Desert.
In fact, most of us would be lying if we said we had never put the car on cruise and taken our hands off the wheel while removing a sweater, grabbing a drink, or even worse, switching drivers at highway speeds. Don't lie. You know you've done it, but what if you could do it legitimately? It won't be long before you can.
Nevada Turns Over the Steering Wheel
The state of Nevada has plenty of wide, open road to test the concept of self-driving cars. They have passed Assembly Bill Number 511 that allows for the testing of driverless cars. Future rules and regulations will be based on what happens in the desert of America.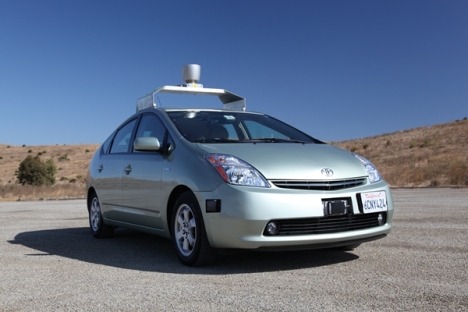 Since there's plenty of room to crash safely, car engineers can develop safe vehicles. We already have cruise control, stabilizers and navigation systems built into our cars. The challenge will be creating highway infrastructures that work with satellite and car sensors to keep the moving auto from running off the road or smashing into objects in its path; including other cars.
Volkswagen Gives it a Test Drive
The German car maker's temporary auto pilot system allows the driver to turn over the driving duties to the car in certain situations. The driver still has to exercise some control, but the car will navigate fairly open roads and even compensate for other traffic obstacles. It's up to the driver to turn off TAP when he's in heavy traffic or on busy city streets. Basically, the design won't make complex turns, starts and stops.
Whether You Like It or Not, You Have a Deep Relationship With Computers
The relationship between cars and their owners has been a lasting love affair since the early 1900s. As engineers and the Department of Transportation invest brain power and money into the future of transportation, they're thinking about the increase in traffic that will become more dangerous as it grows.
By installing electronic sensors in the roadways, which will guide a car at speeds up to 140 mph, the DOT hopes to get people where they need to go quickly and safely. The cars themselves, which are called "smart cars," will travel with six feet of distance between them and with collision control.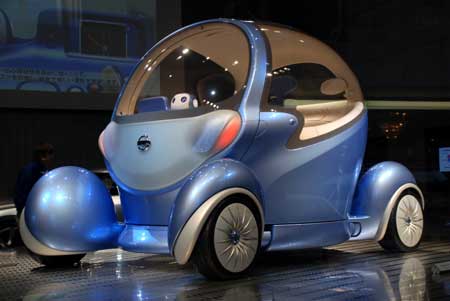 The driver could literally take a nap while the car gets him safely to his destination. If it seems scary, but the DOT disagrees. They believe this technology will relieve congestion, save energy, cut the number of roadways needed, and save lives. Even scarier? Expect the first generation of smart vehicles in the next four to five years.
Google Gets In On the Action
The Google guys are marketing geniuses. Of course, they're going to get in on the auto-pilot action. What if you could check out a Google car and have it navigate and take you where you want to go? Would you pay for it? It would be more private than the train or a shuttle flight on a discount airline. It would allow you to relax, get a little work done, or even watch a little TV. Why would that be scary?
If a car is in total control, then wouldn't you be totally out of control? Suddenly, we're back to that mean monster Christine. She would let you sit in her driver's seat, and she might woo you into thinking you had a partnership with her, but you didn't. If you didn't agree with her, she'd just kill you. That's not Google's intention, but it certainly sets up a good argument for the opposition.
Conclusion: How Safe Is Auto Pilot?
Two things come to mind when you think about a car that self operates. The first one is this: Machines and operating systems malfunction. The second thing is even scarier. Humans are still part of the equation. Here's a good example:
A certain pair of airline pilots overshot their destination by hundreds of miles because they claim they were in a heated discussion over company benefits. The plane was on autopilot, and even though air traffic control detected the problem, the pilots ignored the radio communication.
The idea of someone taking a nap in a self-driving car will forever be scary. Unless the car has complete control, that fallible human being is still part of the equation. In the early phases of this transportation experiment, it's the man behind the wheel that will make it a scary concept.
More about AutoPilot: