For most people, their car is one of their most prized possessions. Not only do cars have a monetary value, many of them also have a sentimental value. Among the many memories drivers have with their cars are road trips, first kisses (presumably with another person and not with the actual car), and miraculously avoided near-accidents.
No matter how good of a driver someone is, the unfortunate truth is that a car break down or car accident can occur. One common cause of these accidents, along with speeding, talking or texting on a cell phone, and poor weather conditions, is tire issues.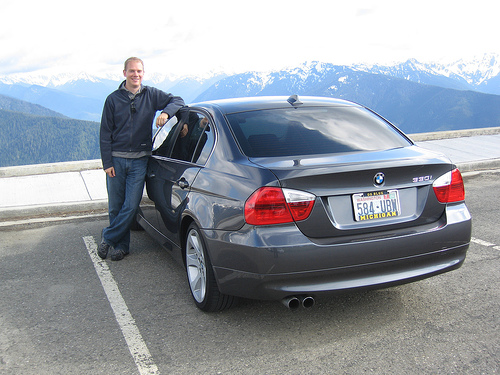 Like any car crash, when a tire blows out or malfunctions because of wear and tear the damage is often severe. You can usually avoid these accidents with proper tire maintenance.
Notable Tire Recalls Throughout History
Over the course of America's automobile history, there have been several major recalls due to issues with a particular set or sets of tires. The tire manufacturers with the greatest number of recalls are:
Cooper Tires with 228 recalls;
Firestone Tires with 97 recalls;
B.F. Goodrich Tires and Hercules Tires, both of which have issued 55 recalls.
Here's a list of some of the most notable tire recalls seen in the United States.
Firestone Radial Tire Recall: 1978
On November 29, 1978 Firestone Tires gave the official order to recall 14.5 million steel-belted radial 500 tires, which is still the largest tire recall in American history.
A series of accidents that injured hundreds and took the lives of more than 40 people triggered the recall. An investigation indicated that the cause was a design issue with the tires, namely a problem with a rubber adhesion compound.
The investigation showed that the design issue became worse at high speeds and led to a serious problem known as tread separation – the likely cause of many of the accidents.
Bridgestone/Firestone Tire Recall: 2000
It took nearly 22 years before the United States would see the second largest tire recall in its history. On August 9, 2000 Bridgestone/Firestone officially recalled 6.5 million tires under increasing concerns and demands from several notable groups.
Similar to the 1978 recall, one of the major triggers of this move was the claim malfunctioning tires, which were the Radial ATX and ATX II tires and the Wilderness AT tires, caused the deaths of at least 271 individuals and caused various injuries to hundreds more. Once again high-speed tread separation was the likely culprit of the malfunctions, damages, and deaths.
Foreign Tire Sales Inc. Recall: 2007
Tread separation reared its ugly head once more when government officials demanded that the Union, NJ company known as Foreign Tire Sales recall 450,000 radial tires that it obtained from a Chinese manufacturer. Supposedly the tires were missing a feature that helps ensure that the tire belts are properly joined to one another. At least two people were killed due to this malfunction.
Modern Day Recalls
Whether you know it or not, tire recalls are an ongoing issue in the United States. In February, 2010 Cooper Tire & Rubber Co. issued a recall for around 8,000 tires after it discovered that the tire treads began to crack at high velocities.
Even more recently, in March of 2011 Continental Tires recalled almost 400,000 tires because of a vibration issue that could result in tread separation.
Recognizing Tire Wear and Tear
It might seem somewhat obvious at this point, but tire issues are a major source of concern for drivers and manufacturers alike. That makes it important for drivers to know what causes tire wear and tear and how to identify these causes.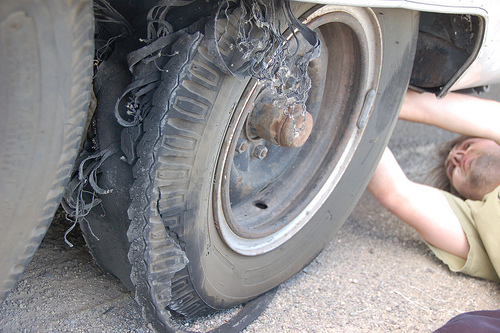 First, This Tread Thing:  First off, the tread of tire is referring to the outer layer of the rubber wheel. Each tire on your car was given a certain tread life by its manufacturer, indicating the number of miles that you can drive before the tread is naturally worn away and needs replacement.
Common Issues: Two of the most frequent causes of tire wear and tear are:
uneven amounts of pressure,
improper alignment.
Pressure: If a tire doesn't have enough pressure, experts consider it under-inflated. A tire has too much pressure it is over-inflated. The former will cause wear and tear on the outer treads, while the latter will cause wear and tear on the inner treads. Either way, the greater the damage to your tire treads, the more likely it is that you will have an accident.
Misalignment: Similar to over- or under- inflated tires, misaligned tires can also cause a good deal of damage to a tire's tread. However, instead of seeing wear on either the inner or outer treads, the tread damage occurs on one side of the tire.
Remedies for Tire Wear and Tear
Check the pressure in all four of your car's tires regularly. Simply purchase a pressure gauge from a local gas station or auto parts store and determine the appropriate pressure for your tires by reading your vehicle's owner's manual. Or if you're not feeling up to checking the pressure, many gas stations only charge a few dollars for the service.
Replace the tires. If the wear on your tires is too severe, the only real way to remedy the situation is to buy new ones.
See an Alignment Specialist: If you find uneven treads on a single side of your tire or feel your vehicle constantly floating or yanking you to one side of the road, it's probably a good idea to have your alignment assessed.
CONCLUSION
Proper tire maintenance is a vital safety measure for any driver. Keep a close eye on your tires' health, and your car may be well on its way to a 150,000 mile life.
More about Tire Recalls