I came across Keith's Rabbit on Flickr, and after I contacted him, fell in love with both the car and the story behind it.
When you first purchased your Rabbit, did you think you'd own it for so long?
When you first purchased your Rabbit, did you think you'd own it for so long?
No, I never thought about how long I would own it. I knew it was somewhat of a "limited edition", so it did occur to me that it might be more valuable than standard Rabbit. I buy things I like and then keep them forever. I have a stereo system from 1992!
When I was looking to buy, I originally wanted a Jetta, but the dealer couldn't find one I liked, and since it was late in the model year, I decided to wait until the new models came out. It's a good thing the GLI didn't come out until the following year, or just might have bought one of those! Anyway, a dealer knew what I was looking for in a car and called me one night and asked me if I would consider a Rabbit. Well, I really didn't want a hatchback, but she convinced me to take it for a test drive. OMG!
I fell in love right then and there! But, this particular dealer had these cars marked up quite a bit because they were "selling like lemonade in August" (and she lied to me about a few things), so I stopped by a different dealer (Riviera Motors in Portland) and talked to the salesman (I remember his name), David Cooke. I remember he asked me what color I wanted. Knowing that they came in only four colors, I said, "Well, black is too hard to keep up, white is too plain, I have never cared for silver cars and I love red cars…so I guess it's red!" one thing led to another and I bought the car right off of the showroom floor! I was actually on my way to a haircut, so when I first went in I had long hair and a beard. When I came back to get the car a few hours later, I had shorter hair and no beard, and poor David didn't know who I was! It's a good thing I left a deposit!
What modifications have you made to it?
Actually only three.
I added the light bar set-up that goes where the rear license plate sits. It says GTI and looks nice, especailly at night!
I changed out the headlight switch from the standard push-pull to the Jetta/Scirocco set-up. It matches the Hazard, Fog Light and Rear Window Defogger switches perfectly.
I changed out the gauges in the console with VDO "Night Design" style and replaced the clock (there is one in the radio) with an oil pressure gauge. I never understood why a "sport model" car would not have an oil pressure gauge. I still have the original gauges and clock and could put them back in in about five minutes.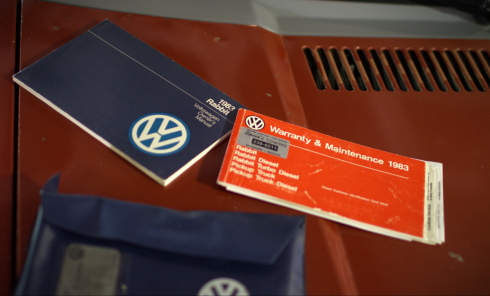 Is this your only car?
Well, I have only owned three cars in my entire life (and I am 52!). My first car was a 1972 Volkswagen Super Beetle. I had it ALL tricked out, but still pretty much stock. I guess "dressed-up" would be a better term. I traded that in on the Rabbit GTI. That was my only car until 1999 when I purchased a "program vehicle" (read: lease return) 1997 Ford Explorer from a dealer where I was good friends with the General Manager.
I still have it, but it does not get driven but only about 5,000 miles per year, just for special uses like pulling a trailer or taking the family somewhere, or driving in the snow (it's AWD). It is in beautiful shape with only 105,000 miles on it. I imagine I will have it forever too! LOL!
Any good stories about the car?
The car has been GREAT! There have not been ANY problems with it other than normal repair items. I have only been left stranded once, and that was my fault. The left CV joint was going out and I waited too long to get it to the shop. I was actually on the way there when it broke when I was 45 miles away. My Dad showed up with a tow dolly and we pulled it to the shop.
What is your favorite thing about your Rabbit?
After all of these years, it is still really fun to drive. It does everything well. It is relatively quick, gets good gas mileage, rides smooth and is still very comfortable for me. I recently drove it to Alturas, California and back. It was fun to have it out on a road trip again. Coming back from Klamath Falls, Oregon to Eugene, it actually got 40 MPG (185 miles on 4.6 gallons)! had to do 55 all the way as I was with a friend who was pulling a fifth wheel behind his truck. I also like the looks I get driving, especially from the young drivers that want it so they can "modify it".
What's the car's (abridged) history?
This car has been driven in all five western states; Arizona, California, Idaho, Oregon and Washington, as well as Vancouver, B.C., Canada and Tijuana, Mexico. I know that at least 24,000 of the miles on this car are from trips to Southern California.
There was a time from 2001 to 2003 that I lived in Newport, Oregon but had taken a new job in Eugene, Oregon. It took two years for my house to sell, so, I drove it two hours each way (about 210 miles round trip), five days a week, for two years! That helped stack up the miles!
What is really amazing about this car is that the engine has NEVER been touched other than tune-ups and oil changes and minor repairs. It has had four water pumps, five alternators, a radiator, five sets of shocks, four sets of brakes, one set of tie rods ends and two sets of CV joints. That's right, the 532,000 miles are on the original engine. The head has never been off! Another amazing thing is, it still has the original clutch! It chatters a little on cold mornings, but does not slip at all!
I was really concerned two years ago when the car started running REALLY rough and after it sat for about an hour, would not want to start. My mechanic thought it was carbon building up on the intake valves and absorbing gas, so there was essentially no prime. And since it was warm, the cold start valve would not work. I ran some Techron fuel system cleaner through it and that helped, but it was still running rough, even after a tune-up. Then a guy I know told be that this condition was caused from the 10% Ethanol that Oregon started requiring in April of 2010.
I found a gas station that pumps "92 Clear" and since my car is 25 years old, it is exempt from running the Ethanol crap. One tank made all the difference!!! My around town gas mileage went from 24 to 28 and the car has run great and just purrs on the highway. That is all I have run in it since. If I take it out of town, I find stations on the internet that have the "92 Clear" or "Pure Gas" and fill up there. It's more money, but it pencils out with the better mileage and not destroying my car. I still run a bottle of Techron thru it now and then, just to keep the fuel system clean.
How did you go about getting the 500,000 mile certificate?
Once the car turned to 500,000 miles, people were telling me to contact Volkswagen, and maybe they would use it in a commercial or maybe even give me a new car and take mine. So I contacted Volkswagen customer service and ended up sending them pictures, and about a week later, they sent me a very nice letter and the "Milestone" Certificate. I have it proudly on display in my garage along with all the magazine ads from the 1983 Rabbit GTI, framed of course!
I have always wanted a collector car. A good friend of mine has a 1970 Oldsmobile 442 W-30 that he bought when we were in high school. Talk about a "Special Edition"! It was his daily driver while we were in high school and college. He still has it, totally stock, but does not drive very often. Once I bought this car, I had no choice but to drive it. I have always loved driving it. But I also wanted to keep it in good condition and pretty stock. I like old cars that have been kept like the just came off of the assembly line.
The interior of my car was re-done in June of 2010 when I found the original upholstery. Now I am saving my money to have some body work done and then have it repainted, in the original "Royal Red" with the striping painted on as well.
Author:

Driven Daily
More about the Volkswagen Rabbit