Going to the mall is pretty common social event, but it isn't always rewarding. Even if you search through every rack and look in every display case, you might not find anything you really like. This might be why DIY fashion has become so popular these days, and it's not limited to wedding plans and random crafts.
Many creative people have fashioned awesome accessories from recycled materials, and some of the coolest are from the remainders of junkyard cars. Here are some awesome examples.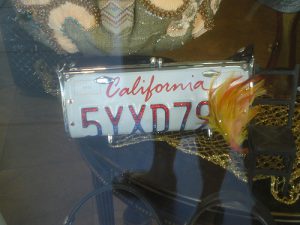 Next time you see an abandoned license plate, don't view it as trash. License plates can be turned into all kinds of awesome accessories, including the handbag seen above. Simply by forming it into a circle and binding it into a bag, the creator has an awesome purse that's not only cool but also original.
Some really creative designers have even fashioned chic dresses out of bits of old license plates, like the one seen here. Taking something old, recycling it, and making something that chic is quite a feat, but it's also very rewarding.
Recycled accessories
Chic recycled accessories are awesome, but practical items are even more useful. If you're looking around a car junkyard and you see a bunch of tires you can use, grab them. By simply cutting up and working with the rubber of tires, you can make comfortable, practical sandals at no cost!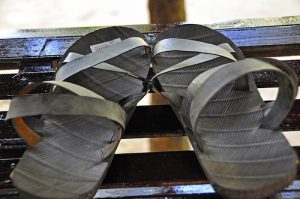 If you do a good job, they'll look like shoes sold in stores, and everyone will be shocked to hear that you made them yourself. There are even tutorials online like this one that simply involve a knife and a little determination.
Usually straps don't portray a lot of the character of a bag. They're simply there to serve a purpose. But with a little adjusting and some recycled car parts, you can make an awesome strap that captures attention while still functioning as it should. Take a neglected seatbelt, use that to hold your bag, and you've added even more character to this accessory.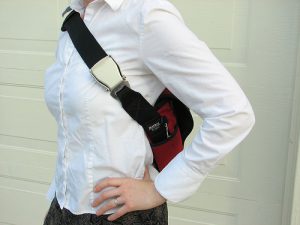 People use seatbelts to make other things, too, like waist belts. They'll also take the seatbelt fabric and craft entire bags out of them. The sky's the limit!
Some of the most mundane items can be turned into something beautiful. The person who made this rug used yarn and car mats. That's right: car mats — those things you put your feet on that are generally covered in dirt and twigs when you haven't cleaned your car in a while.
This is an amazing example of how something mundane can be turned into an awesome house accessory with just a little imagination.
This is probably one of the simplest accessories you can make, but it's still eye-catching and classic. Some of the best necklaces are ones made from everyday "charms" that have interesting designs and color, and someone had the eye to realize car brand logos were visually appealing. If you happen to find these in a junk yard, definitely snag them.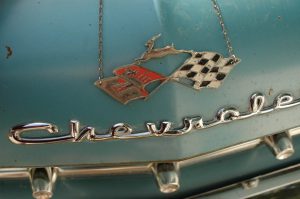 When first glancing at this wallet, you wouldn't think it was made out of car parts. It actually looks like something straight out of Forever 21. It's simple but with an interesting design, and it appears to be good quality.
The person who made this wallet created it with vinyl used to upholster Volkswagen vehicles from the 1970s and 1980s. He saw the pattern and color and saw the potential for it to become something new.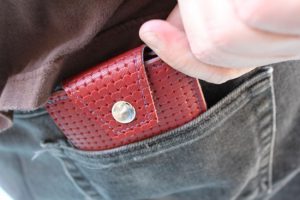 Creating bags and necklaces might seem like obvious choices for recycled material; tires and seat belts are relatively easy to work with. What would you do if you had a car engine to use, though? You can't make a purse out of that — at least not one that could hold anything. You could probably create some weird modern art, but what about in the accessory department?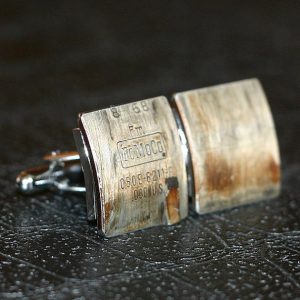 Someone on Etsy took the challenge and made a series of cufflinks out of rod bearing from different makes of cars, including a 1968 Ford Mustang, which are the cufflinks purchased above. If that's not creative, what is?
Conclusion
Instead of spending hours at the mall, take the  time to see the discarded items in the world around you, and imagine ways to recycle them. It doesn't just have to be car parts—it can be aluminum cans, leftover parts of electronics, etc. If you see something safe to work with that's currently considered "garbage," but you think it has the potential to morph into something new, give it a try!
More about the car parts