Buying a car is an exhaustive process. You have to find one that fits in your budget, is practical for your needs, and also has the look you're going for. On top of all of that, you have to find a vehicle that's safe—this is the car you'll be transporting your family in, so it's vital that it'll protect your loved ones. If you don't know where to start in terms of researching which car is the safest, start by assessing its safety features and crash test ratings.
Safety Features
As you browse car collections, make sure you know whether or not each model has the following features. It might be more expensive, but the peace of mind and security of your family is worth it. There are more safety features than just these, but here are a few of the common ones. Consumer Reports and Reader's Digest have extensive breakdowns of features and mention the following within their lists of safety features to look out for.
Airbags are standard in the front of cars, but those airbags won't necessarily protect you in a side collision or roll-over scenario. Side-impact air bags are becoming common, but those in the back seat remain less common. Some of the best airbag systems are able to detect the seat position of the driver, recognize that the vehicle is about to roll over, and sense other factors that can make their deployment more efficient.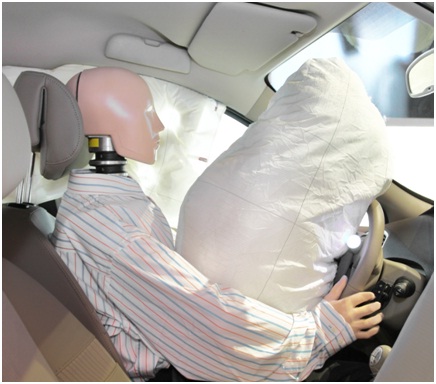 Electronic Stability Controlcomes in many cars these days, especially luxury cars and SUVs.  Make sure it's in the car you're considering because it can be a great safety feature to have. ESC uses sensors to detect slipping or spinning-out motions the car is making, and then works to keep you on track by applying the break to a wheel to even the car out.
Antilock Brakes prevent brakes from locking during urgent or panicked braking so the driver doesn't lose control of the vehicle. Some systems include brake assist, which detects emergency braking and tries to increase the stopping power as necessary.
There are many other security features worth looking into like traction control, rearview cameras, and more. In fact, the NHTSA recommends lane departure warning systems and forward collision warning systems along with ESC. Make sure to research them all and compare car makes and models so that you're confident with your purchase.
Safety Ratings
Don't just rely on what the car manufacturers say about their cars' safety. Look up objective safety ratings to see how your potential car performs in crash tests. This will give you a much better idea as to how safe your car really is. Here are two of the main tests that rate crash safety of a wide range of car makes and models:
The 5-Star Safety Ratings Program from the National Highway Traffic Safety Administration. Tests the crashworthiness and rollover safety of different cars. Having a five-star rating means the car has received the highest safety rating. From the 2011 models and on, the NHTSA has started using more rigorous testing and provides more information about crash avoidance technologies and vehicle safety.
Top safety pick sfrom the Insurance Institute for Highway Safety. Also rate cars based on how well a vehicle holds up in a crash scenario by using ratings of good, acceptable, marginal, or poor. It considers performance in front crashes, side crashes, rollover situations, and it also evaluates restraints and protection against neck injuries. All winners have good ratings in all four tests and are also equipped with ESC.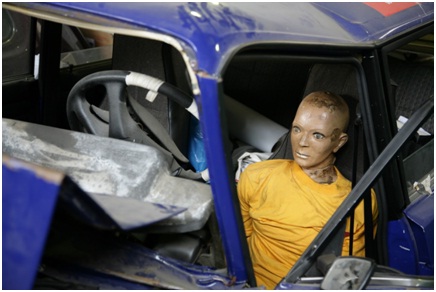 Checking these ratings is a great way to compare how different cars actually perform during crashes. Make sure you're looking at the right year and model because cars can either rise or fall in safety ratings as newer versions are released.
Safe Car Examples
Here are a few of the new cars on the market that have been labeled as some of the safest vehicles available. (That doesn't necessarily mean they are the safest, but they're safe according to certain criteria.) Make sure to do your own research to find which car is best for you and your family.
The brand new 2012 Chevrolet Sonic was named a Top Safety Pick by the IIHS. The car was able to support 5.37 times its own weight in the rollover test when all it needed for a top rating was to support 4 times more.
The 2012 Volvo XC60 SUV AWD scored 5 stars in the frontal crash test, 5 stars in the side crash test, and 4 stars in the rollover test, according to the NHTSA. These are the new set of 2011 tests that are more rigorous and thus can't be compared to previous ratings. The car, along with many Volvos, comes standard with ESC and also offers forward collision warning and lane departure warning features optionally.
The 2012 Honda Civic, a more affordable car, has improved upon its 2011 model by adding stability control and brake assist as standard features.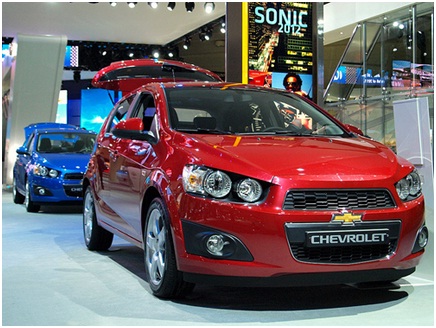 Dozens of other cars score well and come with safety features, but they're all a little different. Do a thorough comparison of what's out there so you know exactly what you're getting and don't regret your purchase later.
Conclusion: If safety is one of your top priorities when buying a car make sure to research your options thoroughly. There are all kinds of valuable resources for you to discover the details of each make and model, but don't stop at checking general crash test ratings. Alsocheck to see what basic and high-tech safety features the car includes that could also help enhance protection.
More about Safety Cars